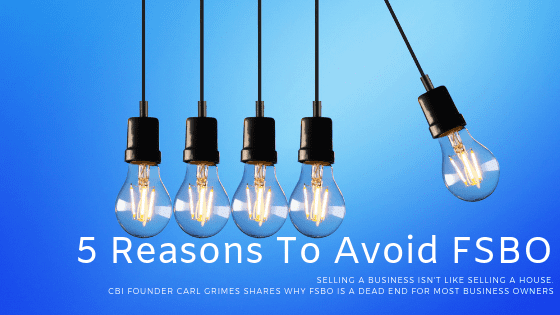 FSBO (For Sale By Owner) has become popular in the residential real estate market over the last few years, primarily because of the internet. However, for many reasons, selling a business isn't like selling a house. That's why FSBO is a dead end for most business owners. Here are five reasons why (and there are many others) you shouldn't go it alone.
Time – Most business owners have more than a full-time job just managing their businesses. Selling a business requires hours of preparation, marketing, screening, meeting, negotiating, document preparation, and hundreds of other details. It generally takes 6 to 18 months to sell a business and that's with someone devoting full time to the effort.
Objectivity – Can you objectively value your business? Can you determine the amount of good-will versus the buyer's estimate of blue sky? Can you separate your ego from the market value of your lifetime work?
Confidentiality– Keeping quiet and having trusted partners is crucial. Simply put, confidentiality reduces risk and keeps your business momentum from stalling with employees, customers or suppliers.
Screening prospective buyers to determine who is a real buyer versus a tire kicker or, worse, a competitor, who wants to steal your customers and employees. How do you protect your business from folks like that? How do you know who has the money and experience and resources to buy your business?
Negotiations – This is oftentimes where feelings get hurt and money is left on the table. Buyers are increasingly savvy and know how to get sellers to give up terms and money. Buyers have a team of accountants, attorneys and advisors who are experienced in negotiations. Who will represent the seller? How do you negotiate the allocation of assets, an exercise that can cost an unwise, inexperienced business owner thousands of dollars in taxes.
These are just a few of many reasons why smart business owners choose a trained, professional, experienced, full-time business broker/intermediary to represent them in the once-in-a-lifetime experience of selling a business. Reach out to your local CBI team or call or email today for a no-obligation consultation at 877-582-5200 or confidential@cbiteam.com.