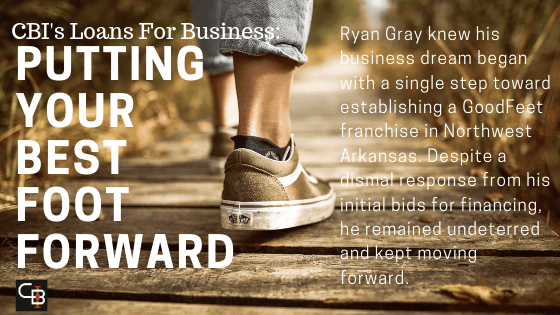 Ryan Gray knew his business dream began with a single step toward establishing a GoodFeet franchise in Northwest Arkansas. Despite a dismal response from his initial bids for financing, he remained undeterred and kept moving forward.
Hearing about CBIs Loans 4 Business program, Ryan engaged the team to explore his need for a loan and shared his ideas for a brand he loved.
Kelly Tivis, manager of CBI's Loans4Biz program worked alongside Ryan and walked side-by-side to support the development of his business proposal and packaged the plan that was shared across CBIs vast lender network.
"I was happy to visit with him about our ability to help him obtain a loan – in fact, I told him it was likely that we would be able to provide him with not only a loan, but several different financing options to consider," Tivis explained.
After engaging more than 75 lenders about the opportunity to provide financing, CBI received six proposals with just as many different ways to structure a loan.
"Ryan selected a lender and was able to open his first franchise location within the year," Tivis said.
Since opening his first franchise in Fayetteville, Arkansas, his GoodFeet footprint has continued to expand.
"Within two years, I've grown my business from one to five franchise locations and I've got plans to further grow the brand," Ryan Gray explained. "I couldn't have done this without CBI."
Since using Loans4Biz, Ryan has opened GoodFeet franchise locations beyond Fayetteville to the following markets: Jackson, Mississippi; Bettendorf, Iowa; Baton Rouge, Louisiana; Little Rock, Arkansas and Shreveport, Louisiana.
The Loans4Biz program saves participants time and money by offering the following benefits:
• Assistance with gathering and completion of documents required by most lenders
• Initial communication with all interested lenders handled by CBI TEAM
• Much better chance of finding a lender who is interested in providing a loan
• A number of financing options presented for consideration
• Thousands of dollars of interest saved over the full term of the loan
Although Loans4Biz program was created to assist buyers of businesses listed by the CBI TEAM, the benefits of using the Loans4Biz program are available to anyone who needs assistance with financing…whether you are buying a business listed by CBI TEAM or not.
To learn more about the Loans4Biz program, contact Kelly Tivis at 479-770-8989 or kelly.tivis@cbiteam.com