By Kelly Tivis, Loans4Business
CBI + DRDA CPA On-Demand Video: Unlocking Your Retirement To Grow A Business | Loans 4 Business Support | CARES Act Update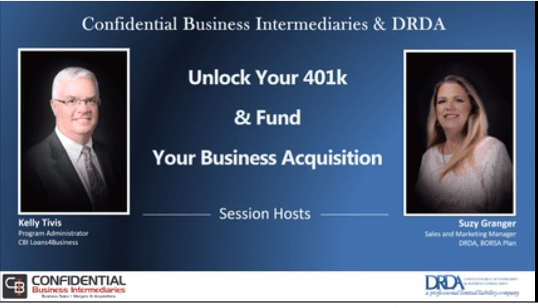 CBI's Loans 4 Business Program Administrator Kelly Tivis sat down with DRDA CPA's Suzy Granger who has spent the last several years as the National Business Development Manager for DRDA's BORSA Plan.
The half-hour video discussion includes clear advice about how business owners or prospective business buyers can unlock their retirement to grow or sell a business. Additionally, the duo talk about the CARES Act and provisions included to help existing business owners access favorable terms & penalty-free loan support via approved 401k programs.
The CARES Act is providing a strong incentive for those eager to purchase a business. If you're in a position to grow, or you're ready to sell, the provision in the CARES Act offers a compelling incentive to close a deal. Included in the Cares Act is a Debt Relief program. This allows for the Small Business Administration to pay the first six months of principal, interest, and fees on behalf of the borrower for new and existing SBA loans closed before September 27. These payments will be made as a subsidy, meaning there is no obligation for repayment, essentially providing six months of no principle and interest for the buyer.
Click here to watch the replay now to hear about tips & tools for your business.
Contact CBI's Loans4Business program administrator Kelly Tivis can provide help and guidance on this program. Move with urgency and contact your local CBI office to determine the smart approach for you and your company – grow, add value, acquire, sell or buy. To learn more, email confidential@cbiteam.com or call 877-582-5200.